Construction of
the train washing complex
in Khabarovsk Passenger Service of the Dalnevostochnaya (Far-Eastern) Railway is successfully completed.
Incom-90
supporting
VST-Company
successfully fulfilled the complex of the installation, starting-up and adjustment works for the complex RBR-6000.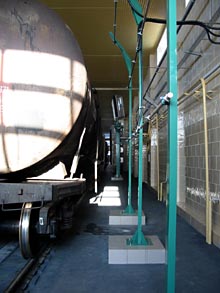 Participants of
opening meeting
of the complex Head of Dalnevostochnaya Railway Mikhail Zaichenko, mayor of Khabarovsk city Alexander Sokolov and the Deputy Head of the Dalnevostochnaya Railway of the Passenger Sevice Sergey Cherepanov have noted the effective interaction of all contracting organizations that have executed all works with a high quality exactly in time!
Irreproachable work of mechanical units, the advanced automatics, the excelent visualization of the operator's work and a special program of the failure search and the removed monitoring is the distinction of the complex.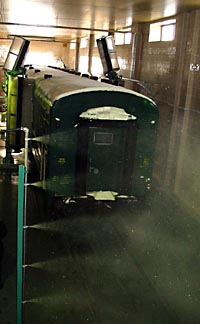 Trials washing of the train by the temperature -25ºС have shown that also washing in ultra low temperature is same high performing. So clear and shiny became the train after washing!
The carriage heating line reminds the real bath. And effective brushes in a combination to special shampoo force the associations.
And on an output - rinsing with the pure water with wax and the fans that blow moisture off cars. Yes! Such kind of bath is pleasure for the Far-Eastern cars!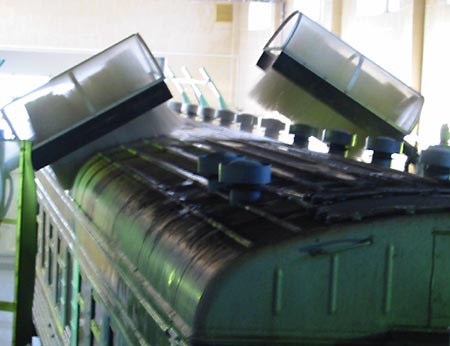 At the speed 3 km/h it takes 15 min for one train to be washed completely, including preparatory operations. It is planned to wash about 100 carriages per day, working without days off in one shift.
Service agreement offered by Incom-90 provides trouble-free work of the complex during a long period of time.
Congratulations to you, people of the Far East! Now you can travel by clear trains!